This week I turned super sleuth!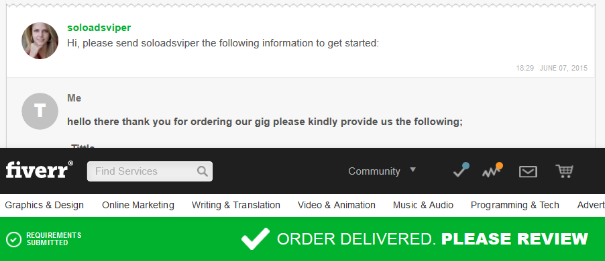 There is huge amounts of money being made on Fiverr by selling cheap traffic and solo ads.
I have always warned people against using this traffic source but there is a never ending stream of people who still want to buy cheap traffic.
So I took an unprecedented step this week. I finally decided to go under cover and and see what is really going on at Fiverr.
What I found will probably shock you.
I have produced a real life case study of Fiverr traffic. At last I would prove what I have always preached.
I reveal the traffic scams and exactly how they are done.

I give you the proof and show you in fine details how you can be (or already have been) ripped off.

I reveal the identifiers that you can use to avoid being scammed in the future.

I look into the sellers themselves and find a few astonishing facts.

You will be able to see traffic fraud a mile away after reading my report.
This reports contains exactly how I purchased and tracked traffic.
How I proved their scams beyond a doubt and how I made sure the scammers knew I had done this.
Download my full case study from the link below.
https://s3.amazonaws.com/findoutonfriday/fiverr-traffic-case-study.pdf
Read this full report. You will be shocked at the results.
Be Warned- Be Safe
PS.  Fiverr is still a great place to get all sorts of jobs done for you like videos, emails, ecovers, voice overs, landing pages and much more.